Custom embroidered patches are an easy and affordable way to bring visibility to your company. All custom embroidered patches are made to order, fully supporting your corporate brand and other marketing activities.
HOW TO PICK EMBROIDERED PATCH, SIZE AND COLOR
Embroidered area:

The embroidered area represents the actual percentage of how much of the total patch area is embroidered. Prices are set according to the embroidered area: 50%, 75% and 100%. In the picture above, the white color represents the background material and the red, blue, and black colors are the actual embroidered area.
How to calculate the size:


To determine the pricing size:
Add length + width, and divide by 2.
Example: a 3" x 4" patch. 3" + 4" = 7" divided by 2 = 3-1/2" size.

Border Options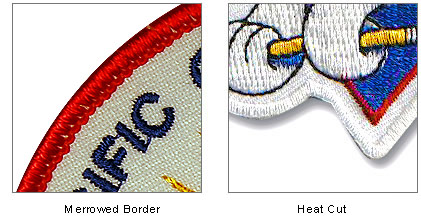 We recommend a 0.12" merrowed edge on the patch. This softens out the edges and provides a cleaner cut.
Merrowed edge is the best option when the patch is symmetrical in shape: e.g. triangle, square, rectangle or circle/oval. We use heat cutting for patches with asymmetrical shapes and sharp edges. Heat cutting also allows us to create holes and gaps.