Only the best is good enough for our troops, we love our troops!
Choose a professional supplier who has enough experience in the manufacturing of embroidered patches, so you avoid any unpleasant surprises. With our 20 years experience we will proudly take care of our military.
We provide free design services, we need your idea, pictures and our professional designers will take care of the rest.
We provide a 100% satisfaction guarantee. If you are not 100% satisfied with the products that you ordered, you may return them for a full refund. No questions asked.
Ordering is quick and easy. We process most orders within 24 hours and ship your patches within two weeks after you've approved your design.
We pride ourselves in not compromising on quality and offering simple pricing with no extra fees. All of our products use the best materials available.
HOW TO PICK EMBROIDERED PATCH, SIZE AND COLOR
Embroidered area:

The embroidered area represents the actual percentage of how much of the total patch area is embroidered. We set the price for all patches according to the embroidered area: 50%, 75% and 100%. n the picture above, the white color represents the background material and the red, blue and black colors are the actual embroidered area.
How to calculate the size:


To determine the pricing size:
Add length + width, and divide by 2.
Example: a 3" x 4" patch. 3" + 4" = 7" divided by 2 = 3-1/2" size.

Border Options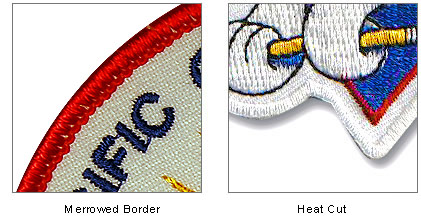 We recommend a 0.12" merrowed edges on the patch. This softens out the edges and provides a cleaner cut.
Merrowed edge is the best option when the patch is symmetrical in shape: e.g. triangle, square, rectangle or circle/oval. We use heat cutting for patches with asymmetrical shapes and sharp edges. Heat cutting also allows us to create holes and gaps.
Backing material options:

PRICES: